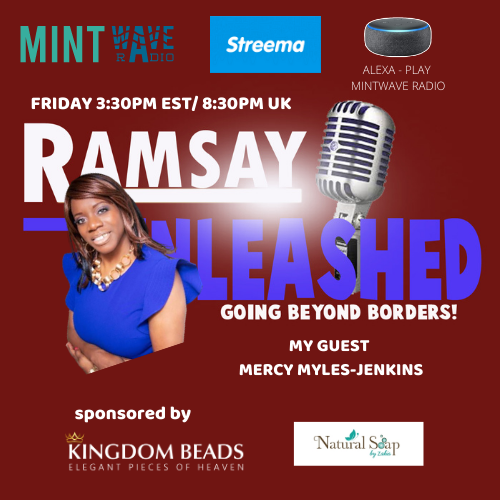 ESCAPING A CULT
Mercy Myles-Jenkins
was born and raised in
London, England, with Ghanaian heritage.
She currently resides in Massachusetts with her family.
She graduated from the University of East London with
a BA Hons in Social Science & Social Work and has
worked in Human Services for 30 years.
Mercy began her entrepreneurial journey in 2017.
She took a step of faith after realizing that her skills of
business development, client transformations,
and staff development enabled her to cause her
employer to far exceed their company goals for
several years in the workforce development arena.
Mercy is an ordained pastor of Christ Church
International Springfield, an apostolic-prophetic
church. Mercy has written 5 books on overcoming
Spiritual Abuse (aka Church
Hurt) and believes that' Spiritual Health is Mental Health'
and encourages the church to support this forgotten group.
Mercy became a certified Life Coach to pursue her passion
for empowering women that have experienced Spiritual Abuse.
She supports them to overcome the experience, to fulfill their life's purpose,
and create a life that they can be proud of. In her latest book Rebuild, Reset, and Recover;
7 Steps to Spiritual Abuse Recovery, she lays out the steps to heal, recover and rebuild a new happier life.
As an Author, Mercy encouraged others to write their stories.
This led to her becoming a Book
Coach/Mentor with a successful Book Coaching program.
She started her company Legacy
Driven Consulting as a mission to inspire and equip women to build their legacy by leading with
their expertise in a book and a mic to amplify their message. Mercy empowers women who were
hidden, to emerge and evolve powerfully in the world as their authentic self.
YOU CAN CONNECT WITH MERCY 
https://www.mercymylesjenkins.com/
BY FRAME YOUR DAY APP 
CONTRIBUTORS
SPEAKEASY PODCAST -ALTOVISE PELZER
#MUSIC #EDINBURGH #USA #CLEANERSEDINBURGH #CARPETS #CLEAN #EP #CARPETCLEANING #LOTHIAN #USA #AUTHOR #COACH #KEYNOTE #SPEAKER #LOTHIANCARPETCLEANING #PODCAST #PODCASTING #RADIO #DOMESTICVIOLENCE #DEPRESSION #GANG #TEXAS #TORONTO #CANADA #R&B #HIPPOP #CHRISTIAN #LESTWEFORGET #NAVYCORE #TEXAS #POPPY #REMEMBRANCE #ATLANTA #GEORGIA #MARINECORE #DAD #NEG2POS #DOMESTICABUSE #SEVENTHDAY #ENTREPRENEUR  #CHRISTMAS #PUBLISHING #FESTIVE #MARYLAND #TEACHING #CANADA #SASKATOON #COUNTRYMUSIC #EP #2019 #2018 #NEWYEAR #CONSTIPATION #EMOTIONALLY #BOOK #COUNSELLING #COUNSELLOR #WASHINGTONDC #MARYLAND #USA #PERSONALTRAINER #FITNESS #LONELINESS #BULLYING #UGLY #MICHIGAN #LELANDBEST #DOMESTICVIOLENCE #AUTISM #PLUSSIZE #MODELLING #AUSTRALIA #SUICIDE #BODYBUILDING #FEMALE #OBESE #CHAMPION #STUNTWOMAN #ACTRESS #SINGER #HEARINGLOSS #FALLGIRL #CLINTEASTWOOD #ROCKFORDFILES #BIPOLAR #CHOREOGRAPHER #CHICAGO #CEREBRALPALSY #TYPE1DIABETES #CHURCH #GOD #DOMESTIC #ABUSE #AUTHOR #MARYLAND #SINGAPORE #CHINA #VOICE #CROSSOVER #UPSTATE #MUSIC #CARE #CAREGIVERS #CHICAGO #TENNESSEE #COVID19 #GORDONRAMSAY #WWE #SHAWNMICHAELS #SINCARA #BOXING #LYMEDISEASE #DOUBLEMINTRADIO #DOWNSYNDROME #DOUBLEMINTRADIO #WJMSRADIO