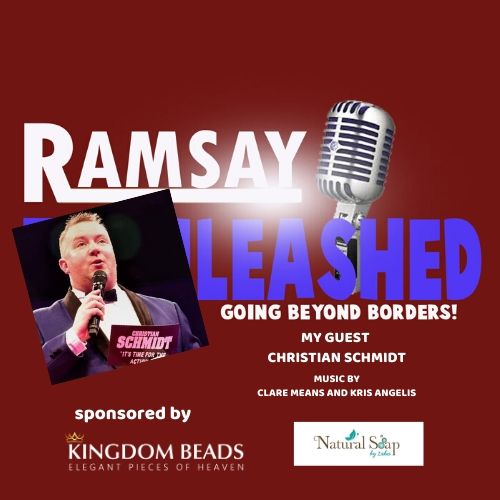 My guest on this podcast was wrestling, boxing, and MMA announcer from Texas USA. He spoke about his interview with The Heartbreak kid, Shawn Michaels, also Sin Cara, Mil Mascaras, Super Porky, Silver King(Ramses)
How He got involved in wrestling, contacted by WWE, backstage etiquette and much more. 
You can hear music from Clare Means and Kris Angelis. 
You can contact Christian via Facebook 
RAMSAY UNLEASHED IS SPONSORED
BY FRAME YOUR DAY APP 
CONTRIBUTORS
SPEAKEASY PODCAST -ALTOVISE PELZER
4HUMANITTEES
PATRICK M VOSS
#MUSIC #EDINBURGH #USA #CLEANERSEDINBURGH #CARPETS #CLEAN #EP #CARPETCLEANING #LOTHIAN #USA #AUTHOR #COACH #KEYNOTE #SPEAKER #LOTHIANCARPETCLEANING #PODCAST #PODCASTING #RADIO #DOMESTICVIOLENCE #DEPRESSION #GANG #TEXAS #TORONTO #CANADA #R&B #HIPPOP #CHRISTIAN #LESTWEFORGET #NAVYCORE #TEXAS #POPPY #REMEMBRANCE #ATLANTA #GEORGIA #MARINECORE #DAD #NEG2POS #DOMESTICABUSE #SEVENTHDAY #ENTREPRENEUR  #CHRISTMAS #PUBLISHING #FESTIVE #MARYLAND #TEACHING #CANADA #SASKATOON #COUNTRYMUSIC #EP #2019 #2018 #NEWYEAR #CONSTIPATION #EMOTIONALLY #BOOK #COUNSELLING #COUNSELLOR #WASHINGTONDC #MARYLAND #USA #PERSONALTRAINER #FITNESS #LONELINESS #BULLYING #UGLY #MICHIGAN #LELANDBEST #DOMESTICVIOLENCE #AUTISM #PLUSSIZE #MODELLING #AUSTRALIA #SUICIDE #BODYBUILDING #FEMALE #OBESE #CHAMPION #STUNTWOMAN #ACTRESS #SINGER #HEARINGLOSS #FALLGIRL #CLINTEASTWOOD #ROCKFORDFILES #BIPOLAR #CHOREOGRAPHER #CHICAGO #CEREBRALPALSY #TYPE1DIABETES #CHURCH #GOD #DOMESTIC #ABUSE #AUTHOR #MARYLAND #SINGAPORE #CHINA #VOICE #CROSSOVER #UPSTATE #MUSIC #CARE #CAREGIVERS #CHICAGO #TENNESSEE #COVID19 #GORDONRAMSAY #wwe #shawnmichaels #sincara #boxing